As we transition from a season of gratitude to a season of giving, I am profoundly aware of my blessings – family, friends, health and Balance Studio and the community that we have grown over the last 10 years.  Like many, I have faced challenges in my life, and appreciate that they are part of being human. I tell my children that we do not find personal growth in the easy times but rather it is the difficult times that mold us into who we are.  I am blessed with a beautiful life and that fills me with immense gratitude.
It is difficult, however, with all of the strife in the world, to not feel guilty of our many blessings. Political unrest, poverty, persecution and inequality plague our world, and often our backyard and our neighbors.  It is difficult to sit by and not feel the need to help.  This December, Balance Studio is reaching out to support three organizations with roots in our own backyard:  Christmas in the City, The Shoebox Project, and The Cohasset Food Pantry. We invite you to join us in helping to make a difference in the lives of those less fortunate this holiday season.
Christmas in the City brings holiday magic to children in need. Started in 1989 by the Kennedy family of Scituate, Christmas in the City is a 100% volunteer-based, non-profit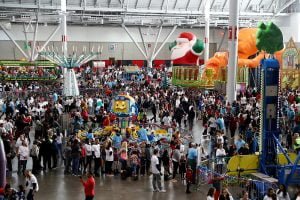 organization.  Annually, they plan and run a holiday festival for families living in homeless shelters, complete with a Winter Wonderland, an indoor amusement park and a petting zoo.  The event has grown dramatically since the first one held at Boston City Hall.  Last year over 7,000 children and their parents from Boston-area homeless shelters attended the festival at The Boston Convention Center.
This year, my family and several friends are heading into the city on December 16th to volunteer our time to help make this an exceptional experience for all of the children and families who attend.  Each volunteer is asked to bring an unwrapped gift.  If you would like to support this event, the studio is running toy drive. We have a wish list available at the front desk for the 103 children who live in the shelter we are hosting.  Our goal is to grant each child his/her holiday wish!  Toys must be delivered to the studio no later than Thursday, December 13th.  Please look for the Christmas in the City info and collection baskets by the front desk and on the second floor of the studio.  
The Shoebox Project is a charity founded to support woman who have been displaced from their homes and estranged from their families, especially during the holidays.  One of the primary missions of The Shoebox Project is reducing the feelings of isolation and loneliness faced by women living in shelters.
This season, Balance Studio is supporting The Shoebox Project by collecting and distributing gift filled Shoeboxes for women living in Rosie's Place.  A Shoebox gift serves as a powerful reminder for a woman that she has not been forgotten, and that she remains a valued and respected member of her community.  Each decorated Shoebox is filled with items valued at $50 that can help enhance self-esteem and reduce feelings of isolation for women in crisis.
Suggested items include:
• Something cozy:  socks, hats, mittens, slippers
• Something sweet:  nut-free
• Something soothing:  body lotion, soaps, shower gel
• Something Personal:  shampoo, conditioner,
• Something pretty:  nail polish, mascara, lipgloss, cosmetics
• Something fun:  playing cards
• Something practical: transit tickets
• Gift Cards:  please write amount and an Inspirational message
There is a drop box located upstairs at the Studio until December 18th.   For additional information, visit www.shoeboxprojectusa.org.
This year we continue our efforts to support The Cohasset Food Pantry.  It might seem unlikely that a town like ours has the need for a food pantry, but it does.  I can tell you first hand the food that we gather at the studio is greatly appreciated by those who run the pantry and those who count on the food pantry to supplement their needs.  There is a list of pantry needs at the front desk that are easy to pick up items to grab while grocery shopping for your family.  Please consider grabbing a list or taking a picture of the list with your phone and dropping off a bag next time you come in for class.
As we transition from a season of gratitude to a season of giving, we thank you so much for all your continued generosity in support of the inspirational charities we have chosen to support. Thank you for being an important member of our Balance community.  Happy Holidays!