Happy summer! Amidst student finals and graduations, summer travel, work, Father's Day, golfing, tennis and water sports, there should be some time to relax, right?
Let's hope so. We wait all year for this season and its many pleasures. And it flies by so fast!
Healthy Living
Living presently and healthfully, savoring each long day of light and each spectacular sunset, is both goal and reward for all of us.
This month we're turning our focus to the guys, who we're happy to report have been showing up in increasing numbers – hooray! It's been gratifying having the extra energy in the studio and seeing the men in our lives taking care of themselves in body, mind and spirit. 
Golf Series
Our recent Yoga for Golf series has been a hit – so much so that those who attended asked us to keep it going. We agreed. The growing interest in offerings for men is also leading us to work on details for a regular men's class to begin this fall (which will be here before we know it).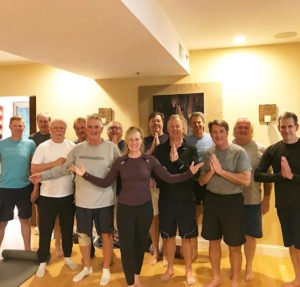 Men are, of course, more than welcome in all our classes! But we're excited to give some attention and intention to their specific fitness considerations.
As we develop more programs for the guys, some of our Balance regulars have been sharing what brought them to the studio and their practices:
"One morning when I went to shave and I couldn't lift my arm above my shoulder. I went to many different doctors to see what was wrong with me and discovered the reason for my issues was constriction due to a lack of stretching," says Dennis Zaia. "Shortly thereafter, I discovered Balance Studio and have found my new home! I take a couple of Yin classes a week and the difference is astounding. Not only do I love the community but my body feels like it did when I was a much younger man, and I can continue to do the other forms of fitness I still love."
Our guys love their yoga and its benefits!

"A regular yoga practice allows for the opportunity to unwind from the day's distractions. It's physically & emotionally liberating while also providing a strong sense of personal empowerment." ~ Mike Birmingham
"I recently hurt my back doing a boot camp workout at one of the big box gyms.  My doctor, who happens to be a student at Balance Studio told me I had to get to yoga to heal my back injury. I have been a faithful devotee at Katelyn's Yoga Sculpt for the past 6 weeks and I feel great! It kicks my butt and my back feels amazing." ~ Chris Keenan
If you're already a regular at the studio and want to see offerings specific to your needs and goals, please let us know. And if you're new or yoga-curious, come try a class with Mike and see why more men are working yoga into their total fitness regimens.
It comes down to this:
Guys, we love you. And that's why we want you to do yoga, alright?
By the way, if you're a dad, Happy Father's Day!