Nope, not a typo. September is the new January (which makes Labor Day the new New Year's Eve, right?) And this is the case whether or not anyone climbed onto a school bus or walked/drove/carpooled to school this month. Back-to-school is baked into all of our DNA from all our own years as students – and that's a good thing.
Back to the School of You
Here in New England, we make no apologies for packing three months of summer fun into eight weeks. We accept that's how summer works around here. And we have a very good time, don't we? By the time the yellow buses fill the streets, admit it: we're relieved, and ready to reboot. Maybe even – getting crazy here – do something just for ourselves?
Step away from the ice cream cone
So let's get to it: Committing (or renewing your vows) to meaningful and impactful self-care habits starts now, with these three fundamental, crucially important categories:
Healthify summer eating habits – The party is over. Run your own quickie detox by skipping chips and packaged snack food the rest of themonth. A few changes – dessert only on weekends, red meat no more than once a week, at least one fresh vegetable at every meal – can add up to a big shift, and you will feel so much better
.
Focus on your fitness – Commit to three days a week, rather than trying to convince yourself you'll miraculously begin daily 90-minute sweat-fests. (Maybe you'll do that sometimes, in which case yay for you!)
Go to sleep – Sleeping well underpins everything else you do, and will come easier after you bid a fond farewell to those margaritas and s'mores. Dim the lights, turn off the TV, read a bit and good night.
Get with the program
Here at Balance Studio we've learned to anticipate the September feels, and have synchronized our watches accordingly. We have multi-week beginner series to warmly welcome newcomers into our yoga and Barre programs, a men's yoga night, a Yin and acupuncture workshop, even a kids' yoga series. Click here for more detail and our September special events schedule.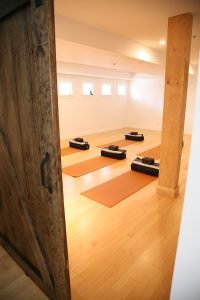 It's not boot camp – it's your life
Don't make yourself crazy – incorporate these seasonal changes gently and realistically, and you're statistically more likely to stay with them. Keep yourself challenged and interested by varying your activity. Yoga to stretch, strengthen and calm a brain scrambled by to-do lists; Barre to tone and strengthen muscles as you prepare to swap maxi dresses for snug jeans; Pilates to attend to your aching back, ice cream tummy and questionable posture.
She shoots, she scores!
Goal-setting can help motivate many of us to work toward improved health and fitness; it's a very personal thing, so you do you and figure out the reward that will get you into bed on time for maximum sleep and then out of bed to rise and shine the next morning.  It could be qualifying for a race, spending a day antiquing in blissful solitude, splurging on a coveted piece of clothing, making it through an advanced class without fainting, dinner in the city with friends, name your pleasure – then seek it.