How do you define healthy living? Here at Balance Studio, we believe a healthy life encompasses physical, mental and social well-being. The interplay of caring for your body, your heart and your head is crucial. There's no substitute.
Getting it going
Yoga at Balance can be gentle and restorative or sweat-drenched and challenging. Pilates can happen on the mat or the reformer, in small groups or bustling classes. Barre workouts vary in class size and intensity.
We offer classes to heal and rehabilitate, and classes to pack on muscle. Check out our January schedule.
Classes are the structure of our house. The people here – staff, instructors and clients – make it a home. And from that sense of belonging we build the mental and social pieces of wellness. We gather outside of class for studio parties and events, we travel to off-sites together (click here for info on our next getaway to Morocco!) and we join forces on projects to benefit those in need.
All of it is about so much more than just rocking your favorite outfit. Healthy living is about your entire life: its length and its quality.
Joy, not Judgement
Community is a key ingredient of healthy living. Balance Studio's belief in the power of community begins within our walls. Our space is filled with joy, not judgement. We offer classes for every age, every level of fitness and mobility, every goal.
That ethos extends outward from our studio to our neighbors' spaces and beyond. Through post-class beach walks, quick smoothies or long lunches, or contributing to our giving projects, Balance grounds and connects us.
We're proud that our clients come from all over the south shore to experience our unique setting. Some grab an hour, some make a day of it. It all works.
Mind and Body 101
Most of us know the basics: Exercising with others is more effective than exercising alone. Mixing up your fitness activities benefits both body and brain. You won't achieve fitness goals without good nutrition and even better sleep. A little bit of activity is better than none. Goals must be reasonable to be attainable. Etc.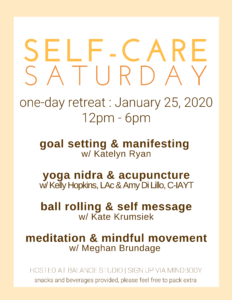 Yet somehow, as we're cleaning and recycling after December's shock to the system (and wallet), these truisms can get pushed aside. Simple and rational as they are, they may slip from our consciousness, and old ways of thinking return. I must consume nothing but liquid for a month! I must run several marathons in the spring! I must work out twice a day or else!
Newsflash: That's not healthy living. Extremes. Don't. Work. Also, they're no fun at all.
In the spirit of sanity in the new year, click here to learn about our Self-care Saturday half-day workshop, coming up Jan 25th.
Live Local
I'm proud that Balance Studio is an independent small business, not a chain. My passion and my presence for this work is fundamental to my life, and that makes for a better experience for you.
My beloved, incredible team has been promoting healthy living and helping build Balance for over a decade now. And we're going to keep at it. 
Our toasty warm, light-filled, two-story space in downtown Cohasset is just around the corner from Seabird Coffee and 5 South Main. Right by irresistible shopping for housewares, outerwear and evening wear at Darilynn's, Outside In and Ports and Company.
I mention this because we love our neighbors. (They're pretty fond of us too.) There's so much going on in downtown Cohasset, visits are basically multi-packs of activities. That's just one benefit of our location. There's no rush – we keep at it in a sustainable way, month after month, season after season. So don't get bogged down in January guilt. But we hope you'll join us this year!