What's not to love about February? Okay, there might not be quite enough sun and we are still far away from the sunny days of May, but the days are definitely getting longer. This winter has been a bit of treat so far and we are keeping our fingers crossed that we don't end up with the February of 2015! How many inches of snow fell down on us…week after week??
This February at Balance Studio, we are feeling, loved, staying cozy and anticipating some good chocolate in our near future. We're filled with warm fuzzies as Valentine's Day (also known now as Galentine's Day and Palentine's Day) approaches. We figured we'd spread the love around and get you in the mood.
Things we Love
What's not to love about learning new stuff? It strengthens the brain and stretches our boundaries. This coming weekend we have two opportunities for you to step out of your comfort zone and try something new! On Saturday, Jill Jardine, teacher, astrologer and mantra master, to name of few of her talents, will share a few hours with us. We are hosting a mantra workshop that will activate prosperity and healing. Sunday, February 9th, local artist and fellow yogi Dre Williams is going to teach us how to make mandalas, which will be incredible if ours turn out anything like hers (check them out here). Come give it a try, and have your artistic horizons expanded.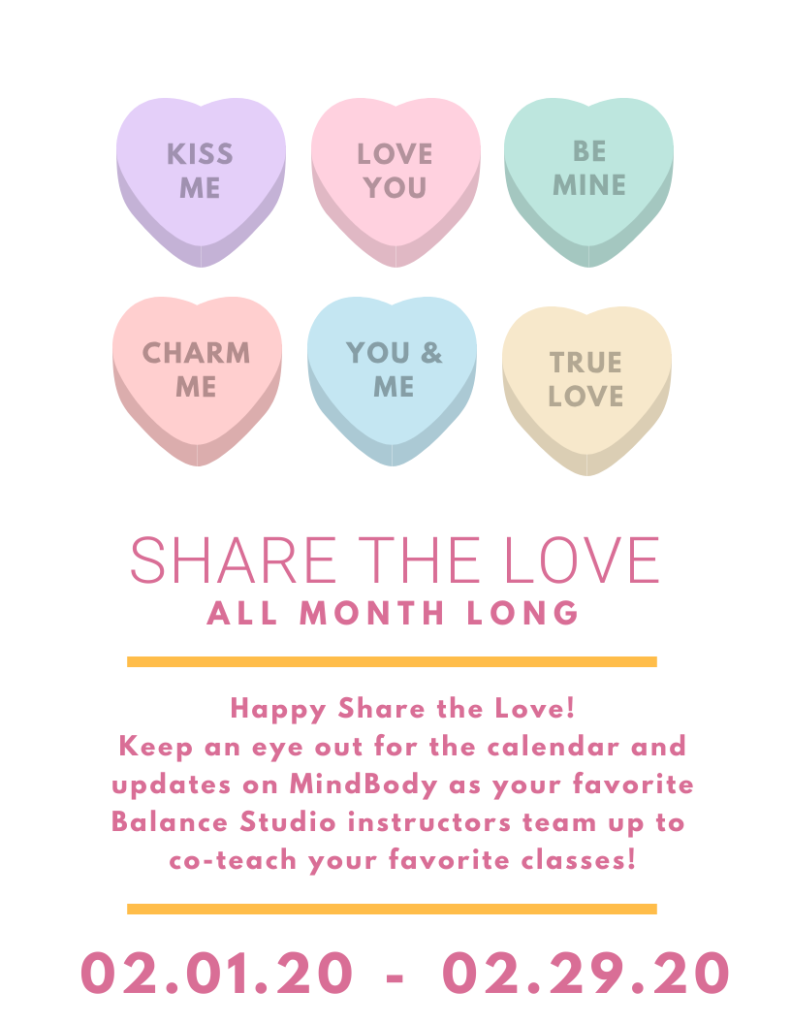 February is also Share the Love at Balance Studio.  Our teachers team up and team teach throughout the month, giving our students the opportunity to experience one of our fabulous teachers that they may not have had the opportunity to meet yet. Keep your eye out for the team teaching schedule each week on Instagram.
Share the Love – with Yourself!
There are many ways to honor and take care of your health and well-being. One way to do it with us this month is by joining Amy DiLillo and Katelyn Ryan for an afternoon of self-love to wrap up our month of Sharing the Love. They'll demonstrate hand massage using the DoTerra AromaTouch technique and share their knowledge of essential oils and their many uses. It's going to smell AMAZING.
On Sunday Feb 16, you can de-stress in Elizabeth Rogers's Restorative and Reiki workshop, resting in deeply relaxing poses while Elizabeth shares the soothing energies and gentle touch of Reiki. It's a profoundly calming experience. 
Mindful movement and meditation allows the season's quiet to wash over us and gives us time to reflect, center ourselves and be as still as nature herself. It feels good in every season, but especially resonates right now. 
Love in Action
Whether your true love is a partner, a pet, your very own offspring or a BFF, February gives us all the opportunity to brighten deepest winter days by showing our affections.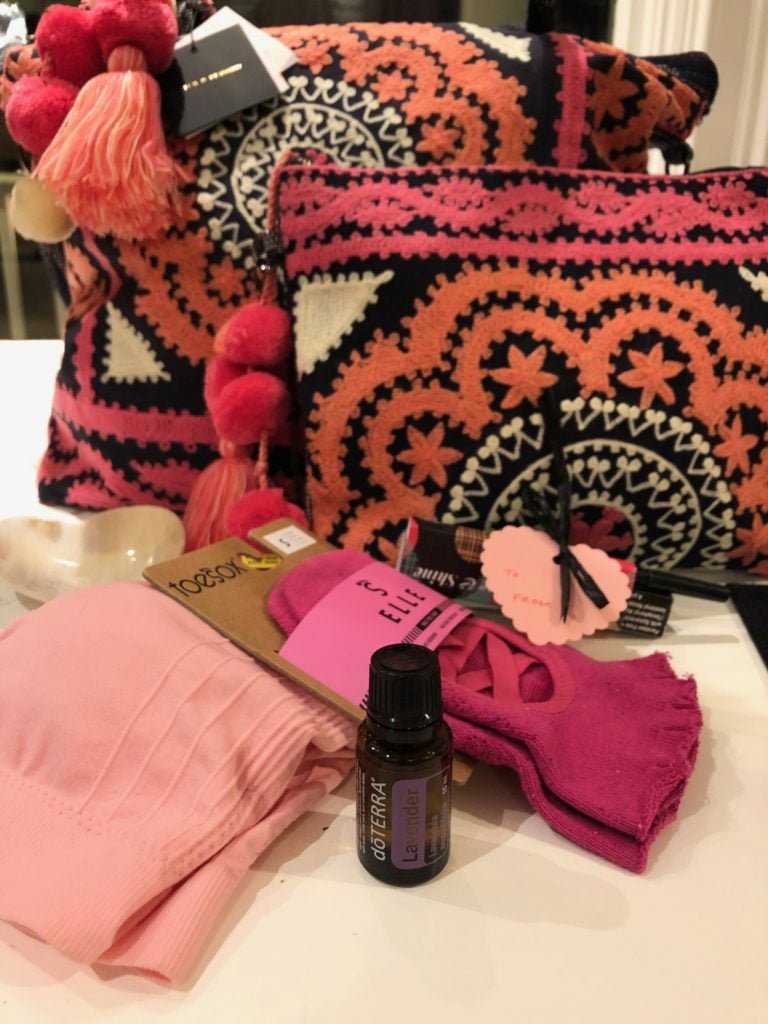 Tell those you love how you feel and show them what they mean to you. It's a blessing for both giver and receiver of the message. Looking into the eyes of your VIPS and sharing your feelings is a gift unto itself. Writing thoughts in a card to be re-read and saved is another sort of treasure. Maybe you'll add a little special something to accompany a card. We have SO MANY cool things to choose from in the Balance Boutique, from toe sox and essential oils to exciting new resort items for Spring getaways!
February: Easier than January!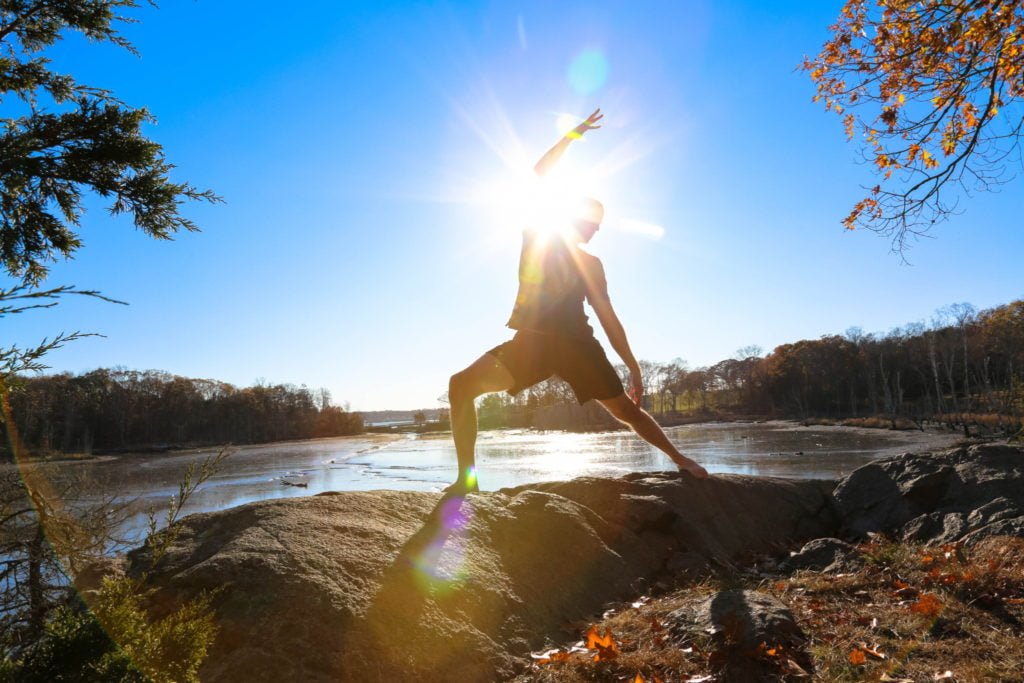 The final thing on our love list is we can now admit that January is in the rear-view mirror. We love that we made it through, resolutions and goals mostly intact, and the pressure is off.  Now we can hopefully embrace and enjoy some of the healthy changes we set out to achieve.
Love is like sunshine. Turn toward it, and watch its light brighten and spread.