We miss you! We hope you have made the most of this summer and have enjoyed time outside with family and friends. As always, the summer tends to fly by too quickly. We are grateful that Massachusetts has remained one of the safer states in the Union and that we are all learning to come to grips with our new normal. However, it has never been more important than now to stay healthy, balanced and keep your immune system primed and at its peak.
We realize that transition can be uncomfortable and for many of us that means buckling back down to work, to school and to healthier fitness routines. Summer is always a great excuse to relax our routines and indulge in not only the bounty of the season but the longer lazy days that we cherish each year.
For those students who have come back into the studio and/or have kept up a strong virtual practice we say THANK YOU! We couldn't have survived without you and we are so grateful! You are helping us maintain this special haven in the village and our community. We are thrilled that everyone seems to be pleased with our new spaces, renovations and strict covid protocols. For those of you who haven't come back into Balance we hope that our quick video will give you a first hand look at our new digs and encourage you to come check us out!
While following the CDC guidelines to safely return to activities and the new "normal", we can also celebrate and honor the practices that are grounding to us whether it be virtually or in-studio.
Yoga, barre, pilates and meditation are all practices that allow us to be aware of the deep strength, peace and energy residing in each of us. Many of us in the Balance community cherish these practices as an integral part of our day, and now we have realized even more so during the pandemic how truly sacred they are. In addition, we understand how much more powerful these practices are when done together in the community of Balance! As Joe Pilates said: ""Change happens through movement, and movement heals." We are here still uniting through breath and movement and invite you to claim September as a beautiful reset in the company of everyone at Balance.
One of the best ways to strengthen your immunity to sickness and any disease is movement and the release of stress. You just may even have more sustained energy throughout your day and sleep better as an added bonus!
The chain reaction of stress caused from the pandemic and its indirect unfoldings can decrease levels of focus, poor communication with our loved ones and the higher likelihood of getting sick. With knowing that stress creates physical disruption in our minds, our bodies and potentially our exterior worlds, we can tend to this with practices of movement and mindfulness. Coping habits like drinking and extra binge watching gone unnoticed during this stress can be exchanged for healthy alternatives such as movement, meditation and uplifting support from community. And our immune systems will truly thank us too!
Coming back to a community that is rooted in empowerment, support and a general interest in well-being can compel us to take better care of ourselves and our goals for the fall.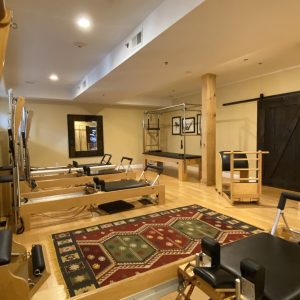 Please check out our fall schedule! It has proved to be a challenge for us to accommodate everyone's new schedule and make sure we are including times for everybody. With this being said, know that this schedule is not set in stone and that we welcome any feedback or suggestions on class times. Whether it be virtually or safely in the studio, we invite you to join us as a community uniting through adversity around the practices that keep us grounded and nourished!