Lili H. 

Not only a friendly face within our Balance community but also a recent grad of our Yoga Intensive Training!
We can thank her husband, Gary, for encouraging her to take up yoga in the first place…not initially sold on the idea, she like many of us, made excuses as to why it wasn't for her!! Fast forward 4 years she gave it another go, this time solo, and what she found has lead her to the path she is perusing today 🙏🏻
How did YIT change your life? 
I had left my career in the Emergency Medical Field to raise my newborn twin girls and I felt as though I had lost the idea of what I was passionate about. It was a leap of faith and everything shifted. YIT reignited my fire, the passion I felt I had lost, helped me find my authentic self and healed me from the inside out. I love teaching. I love sharing the wisdom and truth behind the science of yoga. Things I never knew before my YIT training. I love what all parts of yoga can do for people and the healing energy it gives to the world.
X-country road trip, who's your co-pilot?
My step-daughter Dahlia – we love to connect with each other and have the best time when we are together! Always laughing at the silly things while enjoying the quiet moments too.
What keeps you inspired? 
My kids and my progress.
Who or what has been your greatest teacher?
Life! Having overcome many challenges I would say reflecting on my life and my ability to persevere has been my greatest teacher.
Where can we find you off your mat?
Outside with my kids, playing instruments or singing in our living room or practicing my aerial skills!
Say hello to our client

Becky S

👋🏼 Becky found her mat 15 years ago and it was love at pose.
We are so grateful Becky found this practice and our community! Namaste 🙏🏻 Fun Fact: Yoga runs deep in this family, one of her daughters is an instructor!!
3 things on your bucket list?
No bucket list. Just grateful when an opportunity becomes a reality.
What keeps you Balanced?
A fresh air, morning hike with my two rescue hounds.
Go to meal?
Seafood
Theme song to your life?
Catch My Breath – @kellyclarkson
Where can we find you off your mat?
At the beach, swimming in the ocean!
Meet

Stacey

, this weeks client of the week! Stacey's infectious smile and positive attitude adds so much joy to our community!
Sometimes we wonder how she finds the time to make it to her mat with all her volunteer work, but we are sure happy she does! 🐱(Stacey LOVES cats so this emoji is purrrfect)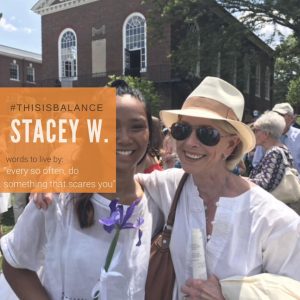 Where did you meet your mat?
I met my mat in Kellie's basement more than 10 years ago at her Pilates classes.  Now I use it for Pilates, yoga and barre at Balance!
3 things on your bucket list?
See tigers in the wild; go back to Africa; break 100 on the golf course!
Morning routine that keeps your balanced?
Feed the cats, drain an espresso and read the New York Times, all before class at Balance.
Cross country road trip, who's riding shotgun? 
Julia Child, bien sur!
Meet

Lauren,

our client of the week! 8 years ago she found her mat in a Bikrim class and never turned back!
Now, a 6am session die hard, she sweats glitter!…and claims she was born in the wrong era, she's a Deadhead for life ✌🏼
We are all about community – so in hopes of bring ours a little closer we are asking our clients the hard hitting questions…let's get to know one another!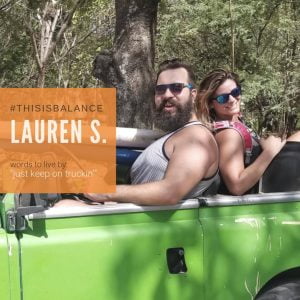 3 things on your bucket list?
To walk on all 7 continents…4 down – 3 to go
Favorite book or author?
Creative Quest – Quest Love
3 things you can't leave the house without?
Mascara, Birkenstocks, and a sense of humor
Who or what has been your greatest teacher?
My failures have been my best teachers – Don't compromise the process and know that it's not all rainbows and roses. Get up and keep going with a new perspective every day.
Where can we find you off your mat?
Surfing, Après Skiing, Watching Live Music, Hiking…or perhaps in the back of a Jeep in Costa Rica with her husband!