Spring's chill is behind us and the season we've been waiting for is finally here! We've celebrated the solstice, but there's a lot of summer left, and we intend to savor every delicious moment.
Where is your mat taking you this summer?
From early morning walks to late afternoon paddles around the harbor, from yoga on Nantucket to yoga on the beach, Balance Studio students are getting outside and seizing the day, and that's a beautiful thing.
Of course all that day-seizing can find us scrambling to stay in our exercise routines. If it's not a houseful of visitors it's our own travel, or our personal kids' shuttle service. Not to mention a scoop of ice cream here and a slice of pie there (because summer rules are in effect, right?).
So how do we let summer into our souls without all our discipline and structure flying out the window at the same time?
Summer is not the boss of you!
Except maybe once in awhile. Here are some summer-infused guidelines to get you through the season.
Embrace the madness: Summer can be nuts (mostly in a good way). Rather than wallow in frustration when your schedule is highjacked, take a deep breath and look at what you can do. Future You won't want to remember summer of 2018 as filled with goals not met. Future You wants to smile at the memories. You missed a few classes, that's okay. Did you walk on the beach, swim, challenge the kids to a push-up contest, rock new vegetarian grill recipes, get the dog into the woods or the ocean? You've gotta answer to Future You!
Your own personal rewards card: If you require the structure of the studio to git 'er done, so be it. Schedule something just for yourself that's located right by the studio for before or after class. Coffee with a friend, a bouquet from the flower shop, a mani-pedi, whatever sounds good. If you don't get to the studio, no reward for you!
Party on: You're more likely to stick with whatever you've planned fitness-wise if friends are expecting you to show up. So gather your posse and schedule a class together. Maybe a healthy picnic after?
Everything's a trade-off: Eat the ice cream. Or the pie. Then, instead of a burger, have a big, colorful, delicious salad that leaves you both sated and virtuous. (Or eat the burger and finish with sorbet instead of a sundae.) Too many margaritas yesterday? Skip them entirely today, and brew a cup of detox tea.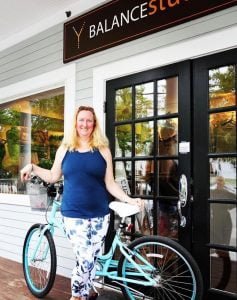 Balance this, balance that: No time for a 75 minute class or a walk long enough to satisfy? Don't dwell. Instead, grab movement in small bursts where you can –  try a one hour yoga or 50 minute barre class. Ride your bike to the studio when you can!  If you can't get to Balance, a half-hour of work in the garden, five trips up and down your stairs (two at a time) a 20-minute walk after purposely parking far from your destination, five minutes of planks, back dancing or the Pilates 100's between cups of coffee. Every. Little. Bit. Counts. And we'll see you next time!
Own your summer: Stay active, have fun, keep goals in line with reality, and jump on your mat as often as you can for summer's ride.
And keep in touch!
We want to see shots of how you owned summer this year. Tag us on FB at
https://www.facebook.com/balancestudiocohasset/ or Instagram at https://www.instagram.com/balancecohasset/with your outdoor yoga adventuresso we can cheer you on (and live vicariously if we happen to be stuck at the multiplex with eight teenagers that day).