It makes perfect sense that Mother's Day lands amid the blossoms and green shoots that surround us each spring. New life and its growth are, of course, the essence of motherhood – tending to our young (and our no-longer-young; they need tending too), ensuring they thrive, blossom, and eventually spread their individual gifts to the wider world.
As we do so, we blossom as well, learning as we teach, growing as we nurture others' growth. We collect our rewards in patches of brightness, admiring the beauty and surprise of the blooms, savoring warmth, marveling at change.
Mothering Others
(To be clear, 'motherhood' applies to every woman who mothers those who need her, be they children, relatives, friends, employees, and yes, animals too).
It's messy. There are thunderstorms. Frosts. Insufficient resources or nourishment to meet everyone's needs. At times, there is – how shall we say it – a distinct lack of appreciation for the labor. A period of waiting for the sun. And that's when it can be especially important to honor the gardener – you.
Mothering Yourself
It's no different from air travel, where you are instructed – every single time! – to secure your own oxygen mask before helping others. We all know why that matters. But do we realize the concept is every bit as important down here on the ground?
Secure your Oxygen
You know what fills your lungs. Exercise, fresh air, friends and loved ones, work, laughter, wonderful meals, new horizons. This spring, set lung-filling intentions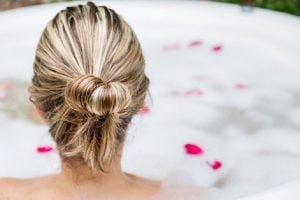 – and take inspiration from Mother Nature's unpredictability by trying something new and different as well. Mix up your routines. Try a new class. Read in an unfamiliar genre. Walk your usual route in reverse. Walk a different route! Don't just glance at the tub – take a hot bath the next time it rains.
We Love you, Moms!
At Balance Studio this month, we're celebrating mothers and their endless, tireless, frequently mind-blowing efforts and contributions to our world. And we want to see your smiling faces at the studio! Check out our May class schedule here, then come in to celebrate the season and yourself. 
Beyond our regular offerings, on Wednesday, May 8 we'll open our doors for a spring Sip and Shop between 6:00 p.m. and 8:30 p.m. Come by to check out George & Dino, a cool new line of locally sourced tote bags. We'll also offer 15-minute astrological readings by Jill Jardine for $40 along with our seasonal snacks, sips and shopping.  
This month, we offer a gentle reminder: Cultivate yourself too. We're all in this garden together. 
Shift from annual to perennial.
Longevity and endurance.
Tending to your own soil.
Your own sun.
Your own dirt.
-from MIGRATIONS: An Almanac for the Soul,
By Jacqui Bonwell and Andy Cahill